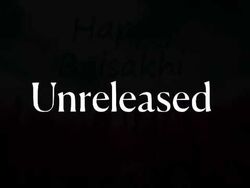 Song by Major Lazer, Vybz Kartel & Lorde
Chronology

"Nobody" is a rumored song by Major Lazer, Lorde and Vybz Kartel from Major Lazer's upcoming album Music is the Weapon.
Background
In 2017, a snippet of a possible song from Major Lazer featuring Vybz Kartel and Lorde was previewed on Major Lazer's iTunes radio show.[1]
Later in 2018, a track list for Major Lazer's new album Music is the Weapon was put up on Genius, then cleared soon after.[2] On the track list appeared Lorde, who is apparently featured on a song with Vybz Kartel. Sources said the information shown on Genius was inaccurate[2], though it is possible there is a collaboration between them.
Lyrics
From leaked preview:
[Lorde]
Nobody move, nobody get's hurt
Nobody move, nobody get's hurt
Nobody move, nobody get's hurt
Nobody move, nobody move, nobody
Nobody move, nobody get's hurt
Nobody move, nobody get's hurt
Nobody move, nobody get's hurt
Nobody move, nobody move, nobody
References